January 2014
Keynote Speaker: April Keese
See Stand4Life Video on the Welcome page for more details!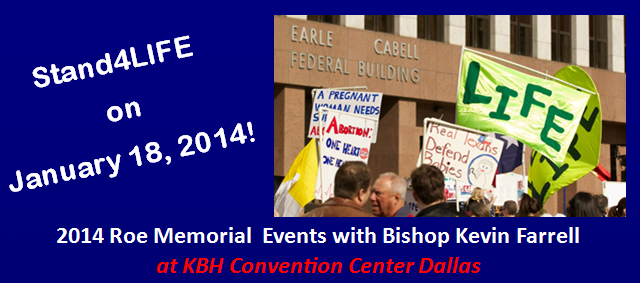 April 2013
March 2013
Former Planned Parenthood Manager Abby Johnson Presents
Sunday, March 3, 2013 2:00 PM - 3:30 PM
Location(s): St. Gabriel the Archangel Church, 110 St. Gabriel Way, McKinney, TX.
iCalendar
Come listen to Abby share her powerful conversion story from Planned Parenthood in College Station to pro-life advocate. Abby will also discuss her most recent charitable endeavor "And Then There Were None (
attwn.org
), a non-profit ministering specifically to abortion center workers to assist their transition out of the abortion industry. There is no charge for this event, but a "love offering" will be accepted to support And Then There Were None.
Due to content of talk, it is recommended that elementary age children and younger not attend
.
For more information, contact
prolife06@stgabriel.org
.
Sponsored by St. Gabriel the Archangel Church and 40 Days for Life-McKinney
January 2013
IT BEGAN IN DALLAS. LET'S END IT IN DALLAS!
The 2013 Dallas March For Life and Rally will be held on January 19, 2013. Click the link below for the schedule of events and much, much more. See you there!
www.exodus2013.org
September - November 2012
40 DAYS FOR LIFE - DALLAS
There is great urgency to unite and storm heaven now for our city to be freed from the grave evil of late-term abortions. We invite all people of faith throughout Dallas to take part in the Fall 2012 40 Days for Life-Dallas Campaign and Prayer Vigil from September 26 – November 4.
If you would like to sign up your church or organization for a day of prayer outside the Southwestern late-term abortion center, please contact Vigil Coordinator Susan Platt at
40days@prolifedallas.org
.
July 2012
Restoring Love - Glenn Beck
Glenn Beck will be holding a celebration of service on July 28th to cap off his three day "Restoring Love" event that will see thousands of Americans descend on the Dallas/Ft. Worth area in order to serve their fellow man. The event will gather together people from across the country to recognize their labors of love and to reflect on the values that unite them. Speakers, music and a fireworks display are all in the works!
Where: Cowboys Stadium
One Legends Way
Arlington, TX 76011
Date: Saturday, July 28th
Time: 8:00 PM
Ticket Prices: US $10 (VIP Packages Available)
Event Parking: FREE
Click for more details:
http://stadium.dallascowboys.com/events/eventDetail.cfm?id=24041AA3-92F8-FC3F-561FA0829BC7ADBC
April 2012
Care Net Urban Initiative
Thursday, April 12th - Friday, April 13th
Oak Cliff Bible Fellowship (OCBF)
http://www.careneturban.org/
TheEstherCall
Thursday, April 5th - Friday, April 6th
Dallas Convention Center
http://www.theestercall.com/
January 2012
Sanctity of Human Life Prayer Breakfast
Saturday, January 21, 2012
8 a.m. - 9 a.m.
Oak Cliff Bible Fellowship
1808 Camp Wisdom Road
Dallas, Texas
Guest Speaker: Ruth Cannings
November 2011
National Adoption Day Dallas County
Saturday, November 19, 2011
Click the following link for more details about the event that will be held in Dallas,Texas:
www.nationaladoptionday.org/events/2011-11-19/national-adoption-day-dallas-county
.
View Video
Octob
er 2011
Troutt Lecture
Series
Monday, October 3, 2011
6:30 PM -
Reception
7:00 PM - Lecture
Guest Speaker for this event:
Chuck Colson
Location:
10595 Strait Lane
Dallas, Texas 75229
RSVP by September 28, 2011 at
http://www.councilforlife.org/
February 2011
Maafa 21 Documentary
This documentary is an explosive expose' of the racist eugenics agenda of the abortion industry in the U.S." ~Rebecca Terrell, New American
Thursday, February 10, 2011 at 7:00 PM Angelika Film Center 5321 E. Mockingbird at 75 in Dallas, TX Tickets: $5 - Must be purchased in advance by loging on to
www.prolifedallas.org/maafa21
or calling 972-267-LIFE (5433).
Special Appearance by: Producer Mark Crutcher of Life Dynamics and Pro-Life Advocate Bishop John Lawson of Children of God Ministries.

SEATING IS LIMITED!!!

Do not miss this riveting and revealing film!!!!
2 Heartbeats Lobby Day
Thursday, February 10, 2011 -- Austin, Texas
Concerned Women for America (CWA) - Brunch - Rally on the Capitol Steps - Lobbying and More Make plans to attend.
For additional information, log on to:
http://www.cwfa.org/
or e-mail
director@texas.cwfa.org
. Phone: 972-722-2776.
Planned Parenthood Exposed!!!
African Americans For Life will join tonight with leading pro-life organizations for an unprecedented video presentation and call to action. A Planned Parenthood Clinic has been caught in the act of aiding and abetting human trafficking and prostitution of women and girls as young as age 14. To see this shocking undercover video footage, tune in to a nationwide webcast on Thursday, February 3, 2011 at 8:30 PM Eastern, 7:30 PM Central.
Attend Live Webcast at:
http://www.exposeplannedparenthood.com/
.
In addition to the webcast, you will hear from nationally respected pro-life leaders such as: David Bereit, 40 Days For Life Abby Johnson, Former Planned Parenthood Director Dr. Alveda King, Priest For Life Wendy Wright, Concerned Women For America "et al."
January 2011
March For Life 2011
March for Life is a long standing Dallas tradition to peacefully and prayerfully make a public stand "for life" by walking to the courthouse where Roe v. Wade was passed on January 22, 1973. Thousands make this walk annually.
This event takes place on January 22, 2011 from 10 a.m. - 2 p.m., Downtown Dallas.
Line up: 10 am -- Evangelical praise and worship Rally, First Baptist Church (corner of Ross and San Jacinto)
11 am -- Stroller Rollers are gathered and organized into rows
Stroller Roll Goal: Make a powerful visual statement for the media at the 2011 March for Life by rolling 210 empty strollers signifying the 210 lives lost to abortion each week in Dallas County.
11:45 am -- March and gather at courthouse, starting from the corner of Ross and Ervay If you are interested in participating in the Stroller Roll, please contact Heather Huber at
972-386-4015 or email
hhuber@prestonwood.org
. The deadline to register for the Stroller Roll is Wednesday, January 19th.
African Americans for Life at the 2011 March For Life Rally